Compatibility, Meaning, Benefits, Characteristics, Healing & Effects in Astrology & Horoscope by date of birth of :-
BLUE SAPPHIRE GEMSTONE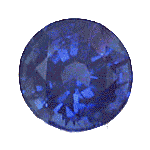 Blue Sapphire (Neelam) is the stone of planet SATURN, SHANI. As per Hindu Shastras, SHANI is the son of SURYA, SUN. His mother, CHHAYA, is the second wife of SURYA. Saturn is the slowest planet in the solar system. As per Indian astrology, Saturn takes almost 2 years six months of time to transits from one house to another.
As per Indian Astrolgy, SHANI is the SORROW of KAAL PURUSHA.
SHANI is said to be the magistrate among all the planets in the solar system. SHANI decides about good or bad results for a native.
SHANI the Saturn is said to be the wicked planet. He is famous for his nature of disaster. If SATURN is in benefic position in the horoscope he will make the native the king in all respects.
Saturn is powerful planet whose position in one's horoscope strongly influence one's work and employment, as well as obstacles one must overcome in order to succeed in one's chosen field. Saturn is associated with the color blue, darkness, obstinacy, gambling and chronic diseases. It governs aging and death, yoga practise, foreign travel, hunters and theives. While malevolent by nature, when properly placed or balanced Saturn can also induce great virtues, such as compassion, charity, longevity, meditative insight, and positive public influence.
When saturn is exalted, one will be long-lived, charitable, lavish, proficient and an affectionate mate. But if satrun is weak in a person's horoscope, one becomes vulnerable to headaches, neuralgia and other disorders of nervous system. Saturn also rules the entire nervous system. Saturn being the slowest planet also causes diseases of chronic nature.
If SATURN is in malefic position in the horoscope he will destroy his life in all manner.
ACTUALLY SATURN HAS THE NATURE TO BRING THE NATIVE ON THE RIGHT PATH OF THE LIFE BY GIVING HIM PUNISHMENT ON THE DIFFERENT LEVELS.
By wearing a Blue Sapphire (NEELAM), the financial hurdles are magically removed out of a natives life.
Blue Sapphire has the divine power to give mental peace, wealth & happiness by removing all hurdles of the natives life.
The wearer of the Blue Sapphire never becomes the claimant of disrepute in the society.
Wearing a BLUE SAPPHIRE helps in the business and profession of PETROCHEMICALS, COAL INDUSTRY, POLY BAGS, IRON ORE, LED, OIL, MUSTARD PRODUCTS, MUSTARD OIL, SALT, LAND TRADING, CONTRACTORSHIP, TRANSPORTATION, TOOLS & MACHINERY, BLACK COLORED MATERIALS, HORSES ETC.
Also politicians, magistrates and law practitioners should wear a Blue Sapphire for the success in their profession.
Wearing a NEELAM protects the native from the diseases related to NOSE, HAIRS, OBESITY, NERVOUS SYSTEM, MUSCLES, BONES, FEATS, KNEES, CALF MUSCLES, and LEGS etc.
Wear a Blue Sapphire to reduce the tribulations caused by malefic SATURN.
Wear a Blue Sapphire at the time of Mahadasha or Antardasha of Saturn in the horoscope.
Wear a Blue Sapphire if born with sigh of Capricorn or Aquarius.
It is highly recommended to wear a Blue Sapphire (NEELAM) if the native is afflicted by SHANIs SADHE SATI or DHAIYAA.
BLUE SAPPHIRE PROTECTS FROM ACCIDENTS.
Gemstones governed by Saturn transmit its cosmic energy through blue sapphire, blue spinel, tanzanite, indicolite, iolite, amethyst and other blue to violet gems with transparent clarity. Only flawless gems possess the capacity to properly transmit positive astral energy from saturn.