FOUR MUKHI RUDRAKSHA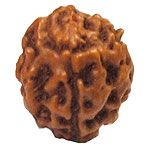 Description:-Four mukhi represents God Brahma and planet mercury. The wearer gains power of creativity when blessed. Increases memory power , vocal power, wit and intelligence. Recommended for mental disease, paralysis, yellow fever, and nasal disease.
The bead will be strung in red/black silk thread.
Mantra:"Om Hreem Namah"