NINE MUKHI RUDRAKSHA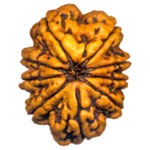 Description:-Nine mukhi Rudraksha represents Goddess Durga (Shakti). When invoked, the mother Goddess blesses the wearer with lot of energy, powers, Dynamism and fearlessness, which are useful to live a life of success. Gives Bhoga and Moksha. It's ruling planet is Ketu (Dragon's tail). Also recommended for diseases of lung, fever, eye pain, bowel pain , skin disease, body pain. It could be worn on left hand.
The bead will be strung in red/black silk thread.
Mantra:"Om Hreem Hum Namah"