SIX MUKHI RUDRAKSHA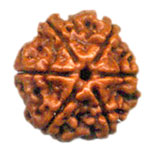 Description:-Six mukhi rudraksha represents Lord Kartikeya and has ruling planet venus Saves from the emotional trauma of worldly sorrows and gives learning, wisdom, knowledge. Increases will power. Enhances vocal power. Affects understanding and appreciation of Love, Sexual Pleasure, Music and Personal Relationships . Also recommended for problems with Eyes, Reproductive Organs, Urinary Tract, Prostate, Mouth and Throat. Could also be worn on right hand.
The bead will be strung in red/black silk thread.
Mantra:"Om Hreem Hum Namah"